Bridgemate II
The best scoring system for any club
Bridgemate app
Follow your results live on your phone
Bridgemate Play
Play face-to-face and online together
Bridgemate is world's most popular wireless scoring system for bridge clubs and tournaments. Its user-friendliness, endless functionality and reliability are unrivalled and lifts any club to a higher level.
Use the Bridgemate app on your mobile phone to follow live your bridge results during and after the game. Guide cards, personal score sheets, results of your opponents, rankings and hand records, all information is published live in your personal Bridgemate app. You can also use the Bridgemate app to score your club game.
Create a true hybrid bridge club and let online players compete simultaneously with face-to-face players in a single game using Bridgemate Play. Share results and rankings live across online and the club and let your players not miss out any game.
Bridgemate Play
Combine online and face-to-face in one hybrid club game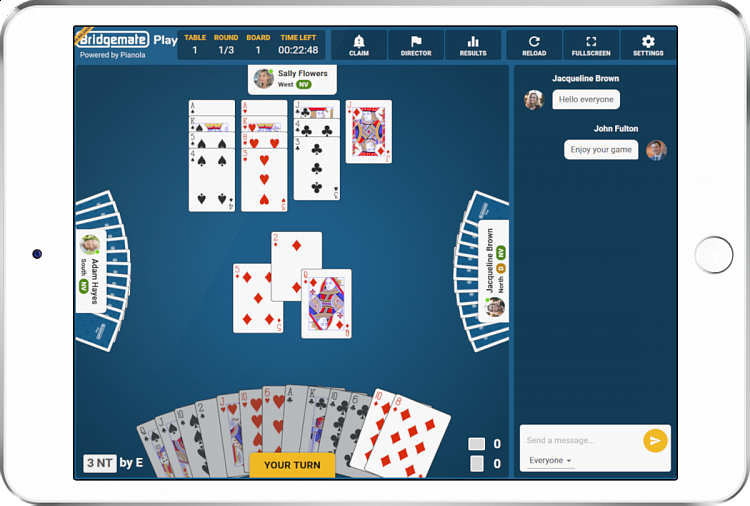 We use your Bridgemates devices in our club in Morristown, Tennesee. Our usage of these little gems is one of the best things that has ever happened to our club. Thank you for all the hard work that it took to create these systems.
Glen Bibbins
Tennesee Bridge Club, USA
Richmond Bridge Club were the first to purchase Bridgemates in the UK. I have no doubt that we stole an edge on our competitors and we had no hesitation purchasing the new ones when they became available. We are now the Number 1 club in the country and we could not have achieved that status without these marvellous machines.
Marietta Andree
Manager Richmond Bridge Club, UK
Our partners


Bridgemate is the official scoring system of the European Bridge League and World Bridge Federation